Training
---
Our Mind Map Training is characterized by a practical working method. You will be taught

why

Mind Mapping works and

how

that happens according to Tony Buzan's own techniques, so that you know what to pay attention to when making Mind Maps.

About 80% of the training is of practical work: how to make Mind Maps in the most effective way. This includes Mind Maps in learning situations, the making of a Speed Mind Map, Mind Maps for decision making, and Mind Mapping 'On The Fly' during meetings, presentations, etc.

Ruud works with small and large groups.
This photo was taken during a training for 65 Mensa(R)-members from all over the world!
---
For who?
For everyone who wants to better handle information, learn in a more effective way and improve creativiness. No previous knowledge of Mind Mapping is necessary.

Trainings are given to groups of individuals (in The Netherlands) or 'in company' (all over Europe) at your own establishment to you and your employees.


Open Registration


MindMap.Nederland regularly organizes Open Registrations in The Netherlands & Belgium in which you can register individualy to one of our trainings. These take place in various locations in the country in special business centres that vouch for the quality of the training.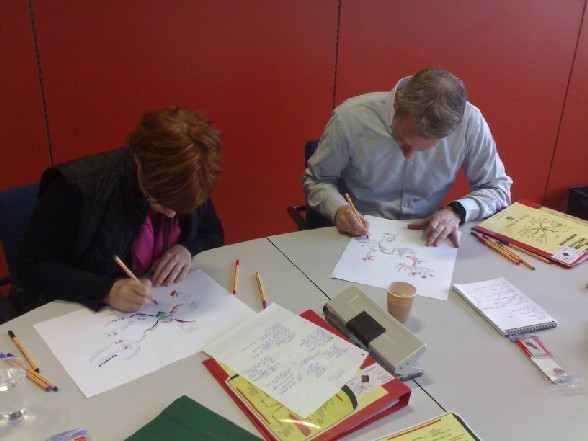 You can register individually or with your friends or co-workers. A pleasant atmosphere is created in which all different aspects of Mind Mapping are discussed. If the number of participants reach the maximum then extra training dates can be planned.


In-Company


Trainings can be given at your own company or establishment. One of the advantages is that the price per participant is lower in comparison to trainings from Open Registration. Another advantage is that the course can be completely customized to your needs and specific situation. For instance, internal issues can be used in the training, with examples of your specific work situation. Therefore, a unique training put together specially for your company.


'In Company' Training can be given throughout whole the World!



---
MindMapWorld.com
Submenu
Our customers are:

- Government

- Universities

- International Companies

- National & Small Companies

- Schools

- Private persons

- Healthcare
and so on.